Sweatshops and Child Labor
What Can We Do
Responsible Shopping
Resources
What Can We Do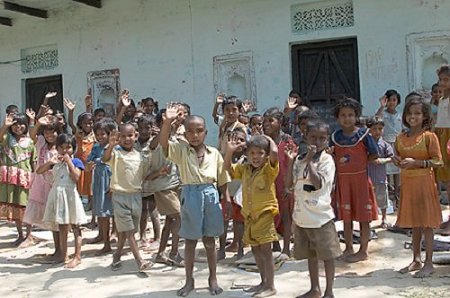 Before being rescued by an Indian non-governmental organization affiliated with Free the Slaves, most of these children were forced to work on carpet or sari looms from morning to night. Some were bonded and some were born to bonded laborers who had received an "advance" against their birth. Initially fearful and withdrawn, the children have blossomed in the protected environment of this special school.
Shift our spending patterns
We should try to shift our spending away from problem companies to responsible companies. Check out the Responsible Shopping page to find out more about this. Choose one or more products that you buy often and commit to purchasing it only from a fair trading organization.
Join Actions
Actions can have great results!
If you would like to help, you can check out the actions of the following organizations:
Raise awareness at the retail level and the manufacturing level
Ask retail stores if their products were manufactured without sweatshops or child labor, and how they know. contact major corporations and ask them to demonstrate that they are meeting all the conditions of a fair labor company. Green America's What You Can Do contains a list of sample questions you can ask a retailer.
Boycotts
Boycotts can help, but only when they are well organized and when the workers themselves have decided that they need one in order to have their voices heard. Boycotts that are not well organized may harm workers by creating less demand for products, thus forcing workers out of jobs. A well organized boycott will cause a company to change the working conditions in a factory, instead of simply closing it down. You can find out about boycotts that have been demanded by checking the current actions of the organizations that work to end sweatshops and child labor (see above).