Breads and Sandwiches
Breakfast
Burgers and Loafs
Desserts and Snacks
Drinks
Main Dishes
Raw Food
Salads and Wraps
Sauces, Dips and Spreads
Side Dishes
Soups and Stews
Vegan

Rawfood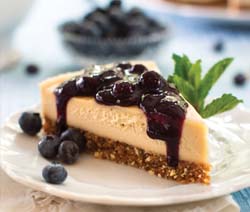 If you think authentic cheesecake flavor is impossible without the cheese, think again. Raw cheesecake happens to be one of the most authentic tasting raw desserts, thanks to the magical combination of cashews and coconut oil.
Go to recipe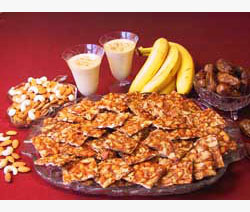 When the kids come home from school, they will love this crispy nut brittle that is good and nutritious. Make several batches at once and store it in a sealed container in the freezer. It will last for months.
Go to recipe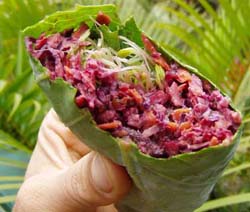 Have fun with this recipe, be creative, use what's fresh in your fridge. Play with the different tastes of fresh spices and herbs. The grated veggies mixed with the tahini, herbs, and minced onions give this recipe the flavor and sensation of bean burritos.
Go to recipe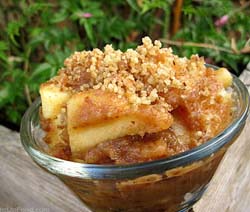 This is a great dessert because it's easier and faster to make than an apple pie or crisp, and requires no baking.
Go to recipe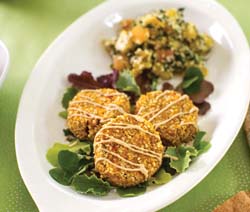 Falafel is one of my favorite foods, but I often find that it's too greasy when prepared conventionally. These falafel, which I first created when I had a ton of pulp left over from making carrot juice, impart all the wonderful flavor of regular falafel, minus the deep frying.
Go to recipe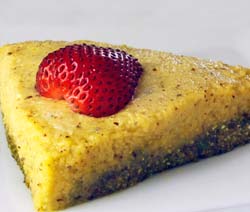 Everyone loves my world famous Raw Organic Mango "Cheesecake," which has no cheese or dairy yet is creamier than any cheesecake out there! This colorful, vibrant dessert is an amazing crowd pleaser.
Go to recipe