Breads and Sandwiches
Breakfast
Burgers and Loafs
Desserts and Snacks
Drinks
Main Dishes
Raw Food
Salads and Wraps
Sauces, Dips and Spreads
Side Dishes
Soups and Stews
Vegan

Desserts and Snacks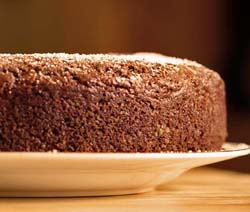 This is a chocolate cake for vegans that tastes as good as any I've ever tasted. I decided that I would not include a chocolate cake unless it was really chocolately, absolutely delicious and, most important, gooey in the middle, as all good chocolate cakes are. This one is all of these and more.
Go to recipe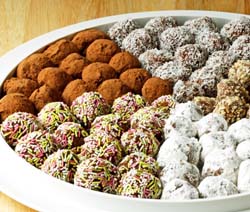 These are so much fun to make (kids can get involved), and when you coat the truffles in a variety of ingredients, they become a beautiful, delicious dessert.
Go to recipe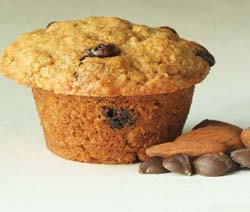 The flavors of banana and coconut compliment each other well, and the addition of almonds and carob in these moist muffins complete this union.
Go to recipe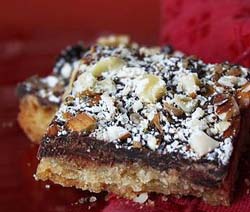 Nice, gooey toffee squares made with only six ingredients!
Go to recipe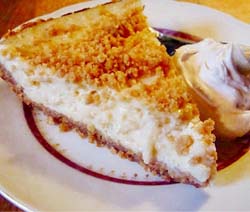 This delicious, creamy pie is so easy to make that I'm sure it will become a favorite all year round.
Go to recipe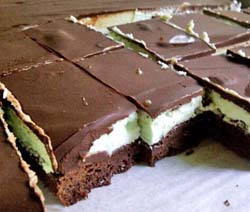 Whoa, man! These are pure chocolate and peppermint bliss! They're not all that difficult or time consuming either, despite having three layers. Don't even wait for the holidays to make these.
Go to recipe