Banketstaaf
Banketstaaf is a traditional Dutch treat, I believe generally served around holiday time. I don't know much else about this truly outstanding dessert. I can tell you that banket=pastry, and staaf= bar. I think.
I do know, if you love almonds, I guarantee you will fall head over heels for this. I am not sure how authentic it is, since the only kind I have ever eaten, is the stuff I have made, but, man, if I didn't shed tears of joy the first time I tasted it. It was one of those "where have you been all my life?!" moments. So, I'll keep this brief and hopefully you will get to your kitchen and whip some up immediately. Seriously. You will be very glad you did.
Ingredients
2 cups all-purpose flour plus 1/4 cup
1 cup COLD vegan margarine
2 tbsp granulated sugar
1/2 cup non-dairy milk, or water
1 cup almond paste
3 tsp EnerG egg replacer frothed with 4 tbsp warm water
1 cup confectioner's sugar
1 tsp vanilla extract
Directions
Step 1
In a mixing bowl, cut margarine, sugar and 2 cups flour together with hands until mixture forms coarse crumbles.
Make filling
Step 2
Combine almond paste, egg replacer, vanilla extract, and confectioner's sugar in food processor or blender. Mix until smooth.
Step 3
Once dough has thoroughly chilled' remove one disk from refrigerator and roll out (on well floured surface) into an approximately 13″ x 7″ rectangle. Make sure that the dough can be easily pulled off counter top, by flipping and dusting lightly with flour, before adding filling.
Step 4
Spread, pull, finagle- half of almond filling into a strip in center of dough. (This gets sticky)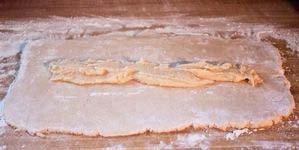 Step 5
Roll one side of dough over the almond filling lengthwise.
Step 6
Dip your finger in water and lightly spread water on remaining edge, where the dough will meet. Fold over, seal, and crimp edges over. Repeat with other half of dough.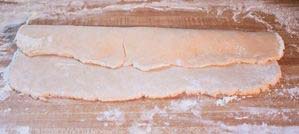 Step 7
Cut small slits into top of pastry. Place both rolls on lightly greased cookie sheet and bake in preheated oven for about 20 minutes or until very light golden brown on top.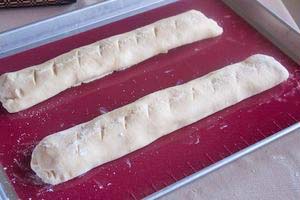 Let cool briefly. Cut into pieces. Devour
Reprinted with permission from Allyson Kramer of Allyson Kramer's Recipes.
Photograph © Allyson Kramer.