Vegan Beignets
Beignets are known in my country the Netherlands as "oliebollen". We traditionally eat them on December 31st, to celebrate the new year. The word oliebollen litterally translated means balls of oil. Trust me, they taste a whole lot better than they sound. They are not the healthiest food, but we only eat them once a year.
You can make the plain variety, the one with raisins or with apple. Beignets with apple are my personal favorite! In Holland we call those appelbeignets. We often start by making the plain and raisin varieties, then thin the batter (see instructions below) to make some apple beignets.
Ingredients
Plain
1 1/2 cups unbleached white flour
1/2 teaspoon salt
2 Tablespoons sugar
4 teaspoons dry active yeast
1 teaspoon cinnamon
1 1/2 cups water (120-130 °F)
1/2 tsp. lemon juice
sunflower oil for frying
vegan powdered sugar for dusting
Raisin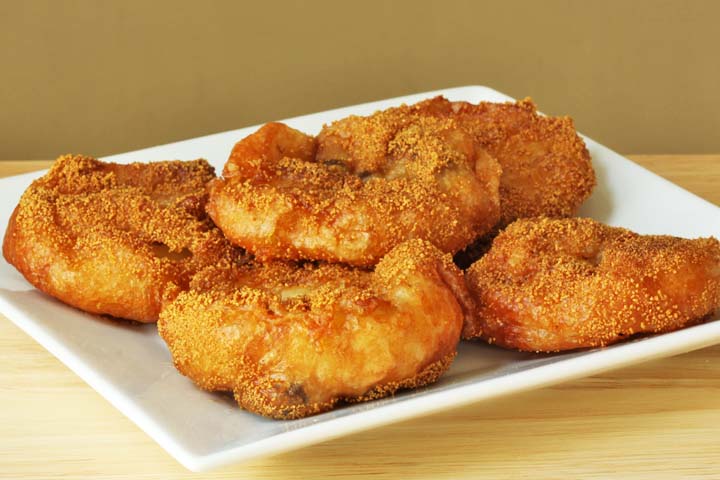 Apple
apples, peeled, cored and sliced thick (1 apple makes about 4 apple beignets)
water to thin the batter
1/3 cup unbleached cane sugar
1 teaspoon cinnamon
If you are making the apple variety, do not add the raisins.
Directions
Plain or raisin beignets:
Step 1
Mix the flour, salt, sugar, yeast, cinnamon and optional raisins in a large mixing bowl. Add the water and lemon juice and stir until everything is well blended. Cover with a damp dish towel and let rise in a warm place for 45 minutes.
Step 2
You can fry the beignets in a deep fryer or a large saucepan or wok filled with oil to a depth of about 3 inches. Heat the oil to 350° F. It is very important that the oil is hot enough, or the beignets will soak up too much oil. You can use a cooking thermometer to check the temperature.
Step 3
Drop the batter in the oil by large spoonfuls, about 4 at the time. (A small ladle will work great here.) Cook them until both sides are golden brown, turning them once. Remove them with a slotted spoon and drain them on paper towels.
Step 4
Sprinkle with powdered sugar and serve either hot or at room temperature.
Apple beignets:
Step 1
Mix the sugar and cinnamon and set aside.
Step 2
To make the batter for the apple beignets, follow the same directions as for the plain or raisin beignets. You can also use batter left over from making either plain or raisin beignets. Thin the batter with water, until it reaches the consistency of a thick pancake batter.
Step 3
Dip an apple slice in the batter and fry it in oil, the same way as you would fry the plain or raisin beignets.
Step 4
After draining on paper towels, dip the apple beignets in the cinnamon sugar mixture. Don't put powdered sugar on the these.
Notes
When you make a large amount of beignets, make sure to refresh the oil now and then. When the oil gets older, the beignets will become oilier and less fluffy.
If you are planning on making both regular and apple beignets, make sure to bake the apple beignets last, since apples contain more moisture.
Recipe created by Wanda Embar with the help of the members of the Dutch Vegan Forum.
Photographs © Wanda Embar.